Become a Bungy Professional 
Training Overview
In order to provide safe an competent Jump Masters, experience is essential.  It is extremely important that every aspect of the job becomes habitual.  The Jump Master programme is an intensive training course that provides the necessary experience to qualify as safe Jump Masters to the standards set out by SANZ and BERSA.  At the end of the course, all attendees are required to complete a formal evaluation which covers all aspects of the training received.
Training takes place at the Pattaya Bungy Jump (or with prior arrangement at the customers site) and attendees will work along side existing staff, working with real customers as well as other course attendees working as an independent team. The course itself takes place over 25 days – 9am – 6pm daily and is a mixture of theory and practical sessions.  The training course covers the SANZ (Standards Association of New Zealand) recommended guidelines and procedures.
During the course, alongside the theory and practical we work to establish standard operating procedures for you Bungy Jump site.  The core of this document has been developed by us (it is over 100 pages) and is modified to meet the specifics of your site e.g. differing tower design, local emergency procedures etc. This is an extremely important document to assist you in obtaining the correct licencing for your Bungy Jump. All students also receive a log book, which again is essential to record every jump they have been involved in during the course and of course afterwards as well.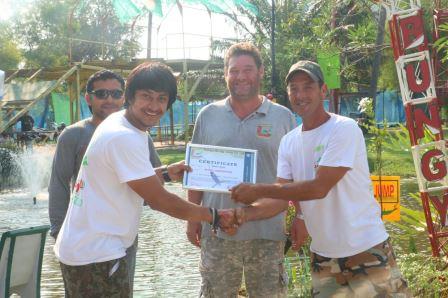 The Professional Course Outline
Our course is highly structured an covers the following areas (all students also receive all course material)
Bungy Jumping History, Physics and Mechanics
Equipment Riggining, Equipment Care and Usage
Equipment and Jump Structure Inspection/Preventative Maintenance
On-Site Efficiency and Safety Procedures
Staging, Harnessing and Jumper Preperation
Bungy Rope Maintenance
Jump Form and Techniques
Jumper Recovery & First Aid
Rappelling and Emergency Mid-Air Rescue
Customer Public Relations
Records & Logs